If you own or manage an outdoor swimming pool in northeastern Ohio – private or commercial – you know that all good things must come to an end. The hot days of summer come and go, kids go back to school, leaves begin to change and soon it's time to close the swimming pool for another season.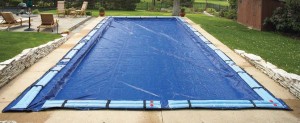 Pool closing can be a overwhelming task and is usually best left to a pool professional. It can also take specialized equipment to winterize your pool. Also remember that most of the pool equipment have plugs in them. Heaters like to have hidden ones, so pay close attention to them. And if you don't close your pool properly, you may damage your pool. This can be a very expensive repair for you if a line breaks. Ask a pool professional to close your pool.
This year, make sure your pool winterization is done professionally by the experts at Aqua Pools Inc. of northeastern Ohio. We'll handle every detail with our pool closing services so that your pool rests safely over the winter and is ready for action next spring.
Closing Detail:
• Test water clarity and balance for the off-season readiness
• Add winterization chemicals-algae preventer, non staining agents and shock
• Drain pool water to proper winter level
• Drain and seal all plumbing lines and equipment
• Add non-toxic, biodegradable, environmentally safe antifreeze to all plumbing lines
Pool will be vaccumed if needed, all chemical will be provided at additional cost  by Aqua Pools if not specified beforehand. Return trip fees may incur if no power or access to water or property.
• Remove and store any equipment per homeowners instruction or facilty direction – ladders, handrails, etc.
• Install and secure winter cover (automatic, mesh or tarp)
Give us a call today at 330-666-9735 to learn about the value and benefits of pool winterization with Aqua Pools!