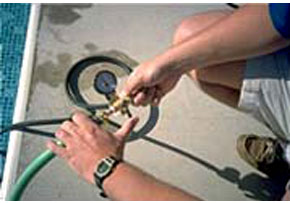 Many swimming pools will leak water at some point, possibly from
one or more locations. Swimming pools may leak above ground from the pool equipment,
or it may be your underground pool plumbing that leaks.
Skimmers and underwater  lights are common pool leak sources.
We do underground repairs!

We provide the following services throughout northeast Ohio:

Dye Test all Fittings/Drains and Light
Pressure Test Plumbing Lines
Pin Point Underground Plumbing Leaks
Check Fittings and Cracks in Pool Structures
Full Diving Services
Water loss in the pool will fluctuate depending on environmental conditionssuch as the weather and your pools proximity to water. Design factors regarding

your pool will also affect its water loss-the surface area, whether or not there are fountains, spa overflows,

and such water features which expose the water to air. Heating the pool or covering it will

also affect its evaporation rate.